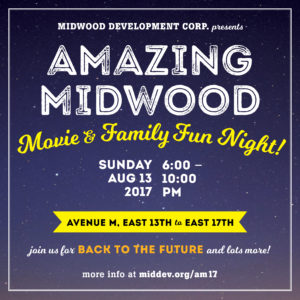 Please join us for a night of free family fun on Sunday, August 13th!
Midwood Development Corp. presents Amazing Midwood: Movie & Family Fun Night, from 6-10 pm. Come out to Avenue M, between East 13th and East 17th streets, which will be closed to traffic. The event is part of New York City's Weekend Walk series.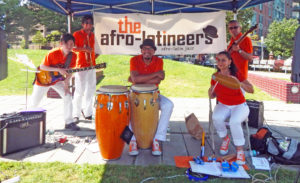 JUST ADDED! We're thrilled to announce Sabor & the Afro-Latineers will be performing from 6-8 pm!
Go "Back to the Future" with us! The 1985 sci-fi classic, starring Michael J. Fox, will be shown at 8 pm. Bring a chair!
Visit the Midwood Movie History Pop-Up Museum!
Did you know that Midwood was home to the first modern movie studio in the U.S.? For over 100 years, countless films and TV shows were produced in Midwood — silent comedies, early musicals, iconic TV specials, variety shows, series, and soap operas — all made right here! The Midwood Movie History Pop-Up Museum invites visitors to  share, listen, learn, collect, and connect to this incredible neighborhood history. We'll also record and archive your own memories of Midwood entertainment history, so come ready to share! And, a beta version of a 'Midwood Before Hollywood' self-guided walking tour app will be available to try out for the first time!
The evening will also feature games and attractions for kids, including face painters, balloon clowns, a rock climbing wall, and other family fun. Please follow our Facebook event page for updates — we'll see you on Avenue M!
Share Your Photos and WIN!
Post your pictures with the tag #AmazingMidwood for a chance to win a gift certificate! Share photos on Facebook, Instagram, or Twitter — remember to use the hashtag #AmazingMidwood!
Thank you to our sponsors: Dime Community Bank, the Midwood Merchants Association, Taste of Israel, and Wealth of Health.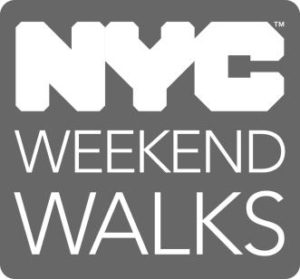 Amazing Midwood is made possible via MDC's partnership with the NYC Department of Transportation. The event is part of the New York City Weekend Walks series, and is supported by a grant from NYC Small Business Services.