Midwood is located in south-central Brooklyn, N.Y., within Community District 14. It is patrolled by the 61st, 66th, and 70th precincts of the New York City Police Department, and is served by the New York City Fire Department at a station on East 14th Street housing Engine 276, Ladder 156, and Battalion Chief 33.
The community is bordered by Borough Park and Bensonhurst to the west, Sheepshead Bay to the south, Flatlands to the east, and Flatbush/Ditmas Park to the north. Residents and visitors enjoy speedy access to Manhattan and other Brooklyn neighborhoods via the B, F, and Q trains, as well as numerous bus lines.
The Avenue M, Avenue J, and Coney Island Avenue commercial corridors have a wide range of mom and pop stores, bakeries, restaurants, and ethnic grocery stores. Midwood, derived from the Dutch word, "Midwout" (middle woods), was settled by the Dutch in 1652. The area remained rural until its annexation to the City of Brooklyn in the 1890s. It became more developed in the 1920s, when large middle-class housing tracts and apartment buildings were built.
Many residents moved to the suburbs in the 1970s, and the neighborhood and its commercial districts declined. Drawn by its quiet middle-class ambiance, new residents began pouring into Midwood during the 1980s; many of them were recently landed immigrants. The largest group were from the Soviet Union, but many arrived from Jamaica, Haiti, Mexico, Guyana, and elsewhere in South America; from Ireland, Italy, Poland, the Baltic countries (Estonia, Latvia, and Lithuania), and elsewhere in eastern Europe; and from Greece, Turkey, Israel, Syria, the Persian Gulf states, Iran, Pakistan, India, Bangladesh, China, and Korea. In a short time, Midwood was transformed, from a predominantly Jewish neighborhood to a remarkably polyglot community.
Midwood was the original home of the film industry with the opening of the Vitagraph Studio in 1907 (now closed). Midwood is home to educational and cultural institutions such as Brooklyn College, E.R. Murrow High School, and the East Midwood Jewish Center, which is listed on the National Register of Historic Places.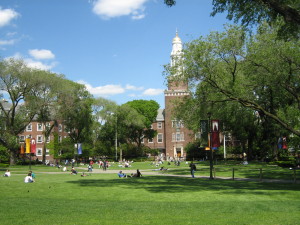 Brooklyn College