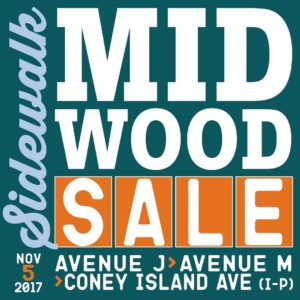 The Midwood Development Corp. and the Midwood Merchants Association (MMA) present our Fall Midwood Sidewalk Sale on Sunday, November 5th, from 11 am to 6 pm.
Enjoy a stroll through our neighborhood streets and support local businesses! Visit merchants on Avenue J and Avenue M, between Coney Island Avenue and Ocean Avenue; and on Coney Island Avenue between Avenue I and Avenue P.
Participating merchants will display goods on the sidewalks in front of their stores. For more information, please visit our event page here.
The Midwood Sidewalk Sale is sponsored by the Brooklyn Chamber of Commerce.