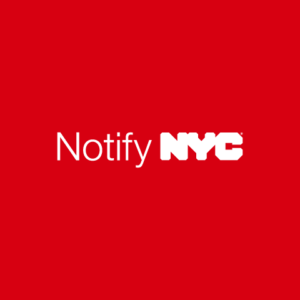 In September, Notify NYC launched its mobile app. Notify NYC began as a pilot program in 2007, originally operating in select areas of New York City before expanding to a citywide notification system in 2009. The mobile app uses geo-location technology to ensure New Yorkers are informed in real-time about incidents in their immediate area.
Notify NYC is New York City's official source for information about emergency events and important City services. The program operates out of New York City Emergency Management's (NYCEM) Watch Command Unit, where a team of dedicated professionals monitor emergency activity in NYC and the surrounding metropolitan area 24 hours a day, seven days a week.
Enrollment is free. In addition to the app, subscribers can receive notifications via email, text, Twitter, and more. For more information about Notify NYC alerts, including the types of notifications, visit their Frequently Asked Questions (FAQ) page..
Become an informed New Yorker today: