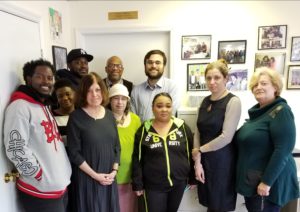 Linda Goodman, Midwood Development Corporation's long-time Executive Director, is retiring. Following is her statement:
"It is with mixed emotions I publicly announce that effective February 9, 2018, I will be retiring from MDC. Professionally and personally, it has been a wonderful 23 years working with MDC's board and staff to help MDC achieve its mission: 'To provide human services and supports that improve the lives of people in our community while fostering an inclusive and vibrant commercial district.' Looking at our list of milestones, I am proud of specific achievements, as well as the day-to-day tasks MDC's staff and I accomplished to improve people's lives."
Consultant Lucia Rivieccio will join MDC as Interim Executive Director. More information to follow.
Pictured, MDC staff. (L-R front): Matthew Akins, Project Sweep/Supported Employment Job Coach; Tamika Brathwaite, Office Worker; Linda Goodman, Executive Director; Fay Snyder, Office Manager; Kim Vu, Office Worker; Veronika Povcher, Director of Accounting Operations; Nina Akopyan, Housing Counselor. (L-R back): Jason Kellman, Project Sweep/Supported Employment Director; Julian Akins, Director of Youth, Recreational & Arts Programs; Barry Polinsky, Director for Community Projects.